By the end of 1995 the swamp was a green field of honohono. This view is from the mango tree on "the island". I think that is Kevin out by the "house" trees all in a row.
Scroll on down for more pix.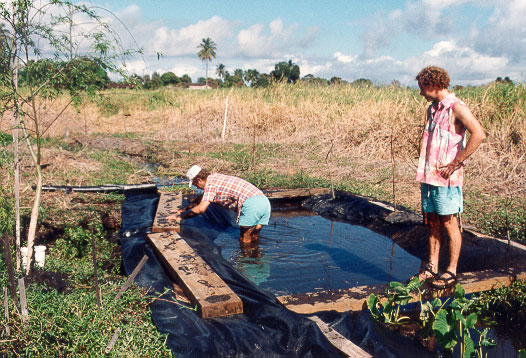 The dam is just behind Ray, who is getting taro keiki to plant as Jim looks on.
A few minor details: The taro variety is Pi'i Ali'i from the guys at the UH taro patch (near where the Hawaiian Studies building is now). A few of you got to try it – it makes a delicious purple corm. Note the jug of "huli dip" – a 10% bleach solution to kill any germs. The green puffy grass growing around the taro plants came up on it's own when the soil was just barely above the water. We called it "chia" grass.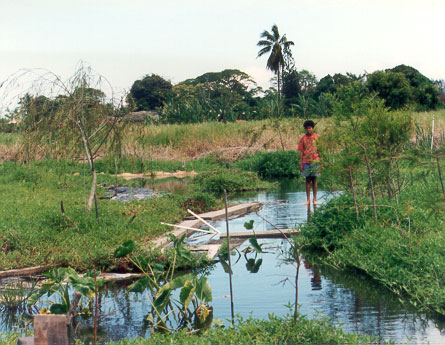 Joseph has his hands full of our fine swamp soil. I think he is raising the support for the bridge. Note by then we are using old carpet scraps to keep the honohono under control and to give a little strength to new mud construction.
Building note: Our main trick to get support out of goopy mud was to let it dry a few weeks before walking on it. We also tried mixing in a little cement, fiber, etc. which worked to some degree.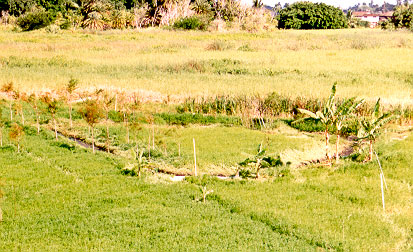 Ray and Jim caught a few waves at Haleiwa Alii that hard working day in 2/95.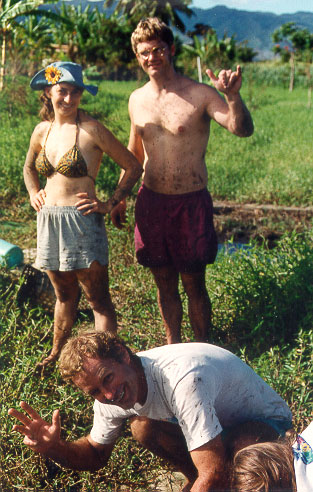 A more typical posture for Doug at the swamp. – July 2000.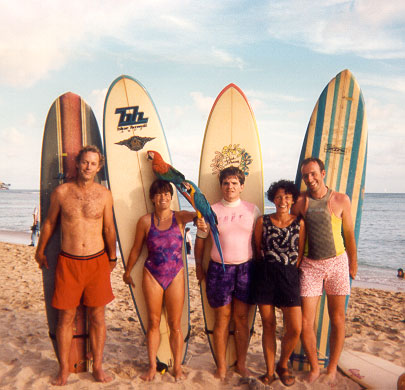 Kevin and Lucy say goodbye.
Tara in the taro ditch, here right thru the center of the house trees. Note even with carpet lining the sides (barely visible) the honohono is creeping in.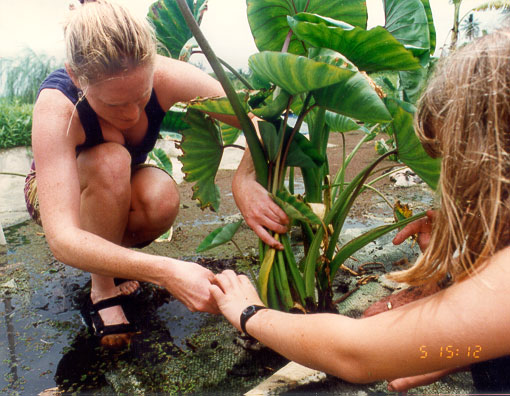 By now we are loving the taro meals from harvests at the swamp. This led to try growing it at home, in little swamps made from buckets. This picture is me and Junko showing the taro to some Japanese tourists on one of our "Kore Wa Tours". (Japanese gardeners grow a taro relative called Dasheen, or ara imo.)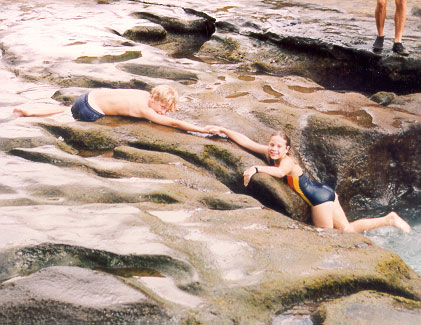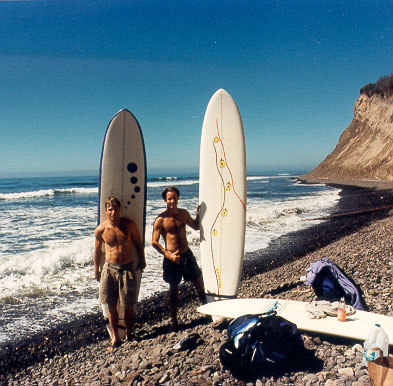 Back in HI – Here are Doug and Jim by the first coconut tree we planted. The tree is about 4 years old. (Doug planted it summer of 95. This photo is Nov 99. The variety is Lillian Chung semi dwarf, which has a very long "drinking nut" period. The first coconuts popped out a year or so later and now we have fresh coconut water to drink.)
This picture is not super clear, but it marks a fine moment. Aug 12, 2000 was our first day with about 4 times the firepower with RoundUp. We used to use just a 1.5 gal sprayer. We got a new 2 gal sprayer, plus 2 handheld "six-gun" sprayers, plus three 1-gal jugs to bring extra juice. In the picture Ray has the 2 gal sprayer, and Arnie has a six-gun in each hand. The breeze blew the cattails so his don't really show.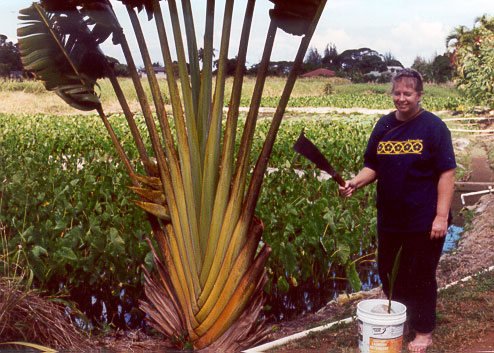 It is about time to head on down the road. In the honohono years our access was by way of the Tantog family's road (off of Achiu Lane). We did not have a legal right of way, but they let us slide. We were careful to not go on weekends (they often had family functions down on the "island"). We sprayed weeds on the way in, and gathered trash on the way out.
Here are John, Ray, and Julisa after a tree trimming session in July 2000.